Newer posts are loading.

You are at the newest post.
Click here
to check if anything new just came in.
Achilles Tendinitis
Overview
Achilles tendon injuries are one of the most common overuse injuries in recreational sports. A very small percentage of these injuries are diagnosed and treated by doctors of chiropractic. What is especially interesting is that a high percentage of these injuries are caused by a posterior calcaneus subluxation.
Causes
Achilles tendonitis is an overuse injury. Too much too soon is the common cause of overuse injuries, however other factors can contribute to developing the condition. An increase in activity, either distance, speed or a sudden change to running up hills. As a rule of thumb distance runners should increase their mileage by no more than 10% per week. A change of footwear or training surface for example suddenly running on soft sand can cause the heel to drop lower than normal making the tendon stretch further than it is used to. Weak calf muscles can tighten or go into partial spasm which again increases the strain on the achilles tendon by shortening the muscle. Running up hills - the achilles tendon has to stretch more than normal on every stride. This is fine for a while but will mean the tendon will fatigue sooner than normal. Overpronation or feet which roll in when running can place an increased strain on the achilles tendon. As the foot rolls in (flattens) the lower leg also rotates inwards which places twisting stresses on the tendon. Wearing high heels constantly shortens the tendon and calf muscles. When exercising in flat running shoes, the tendon is stretched beyond its normal range which places an abnormal strain on the tendon.
Symptoms
Achilles tendonitis is an injury that occurs when your Achilles tendon -- the large band of tissues connecting the muscles in the back of your lower leg to your heel bone -- becomes inflamed or irritated. The signs and symptoms of Achilles tendonitis often develop gradually. You'll feel pain and stiffness in your Achilles, especially when you first get out of bed. The pain lessens as you warm up, and may even disappear as you continue running. Once you stop, the pain returns and may feel even worse. You may also notice a crackling or creaking sound when you touch or move your Achilles tendon.
Diagnosis
If you think you have Achilles tendinitis, make an appointment to see your doctor. The doctor will ask you questions about your recent activity and look for signs. The foot not flexing when the calf muscle is pressed ( if Achilles ruptures or tears in half). Swelling on the back of the foot. Pain in the back of the foot. Limited range of motion in ankle. An X-ray or MRI scan can check for tendinitis.
Nonsurgical Treatment
Ask your Pharmacist for advice. 1) Your Pharmacy stocks a range of cold packs which may be applied to the area to decrease inflammation. 2) Ask your Pharmacist about a temporary heel raise or pad which can be inserted into footwear to decrease the force absorbed by the tendon when the feet land heavily on the ground. 3) Gently massaging a heat-producing liniment into the calf can help to relieve tension in the muscle which may relieve the symptoms of Achilles Tendinitis. Ask your Pharmacist to recommend the most appropriate type. 4) Gels, sprays or creams which help to reduce inflammation are available and may be applied to the injured area. Ask your Pharmacist for advice. 5) Your Pharmacist can advise you on analgesic, anti-inflammatory medications such as Aspirin which may be of assistance. Aspirin should be avoided in children under the age of 12 and those aged 12 to 15 who have a fever. 6) Strapping the ankle can help restrict movement and minimise further injury. Your Pharmacist stocks a range of athletic strapping tape and ankle guards which may assist your injury.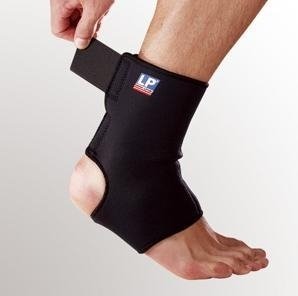 Surgical Treatment
If several months of more-conservative treatments don't work or if the tendon has torn, your doctor may suggest surgery to repair your Achilles tendon.
Prevention
There are several things you can do to reduce the risk of Achilles tendinitis, warm up every time before you exercise or play a sport. Switch up your exercises. Slowly increase the length and intensity of your workouts. Keep your muscles active and stay in shape all year-round. When you see symptoms of Achilles tendinitis, stop whatever activity you are doing and rest.